Regular price
KSh4,400.00
Regular price
KSh7,000.00
Sale price
KSh4,400.00
Unit price
per
Sale
Sold out
KNEE RELIEF PATCHES KIT
All-Natural formula
Quick & long-lasting results
QUICKLY reduce pain and inflammation
No more dangerous meds, costly doctors, or risky surgery!
TURN BACK THE

"PAIN CLOCK" 20 YEARS

WITH THIS POWERFUL HERBAL PATCH
Knee Relief Patches help naturally relieve pain for up to 8 hours without any drugs, chemicals, or side effects. Our Knee Relief Patches
naturally help reduce inflammation and relieve all types of knee pain
that occur often due to playing sports, middle-aged knee problems, cold knees, meniscus injury, arthritis, bone hyperplasia, ligament injuries, and others.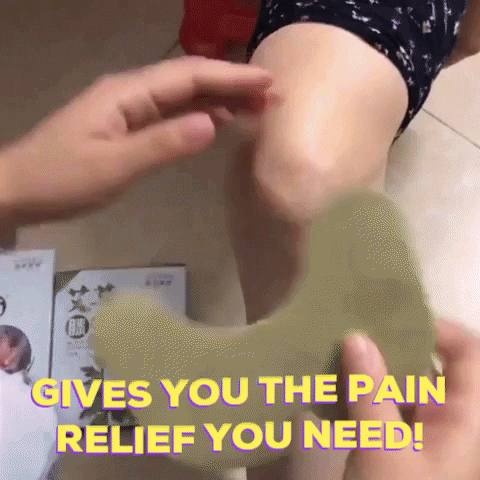 MAXIMUM ABSORPTION FOR RELIEF IN MINUTES

Knee Relief Patches have been specifically designed for maximum absorption into the knee so that you can feel relief within minutes. The heat helps stretch the soft tissues, and relax muscles, which promotes flexibility and helps decrease stiffness.
DIRECT RELIEF TO THE AFFECTED AREA
Knee Relief Patches promote flexibility in your joints and help decrease stiffness. This self-heating patch penetrates deeply into the muscle right where it hurts. Our eco-friendly patch targets cells in your knee that causes inflammation.
If the pain appears in the upper part of the knee, place the Knee Relief Patches Patches right on top of it for maximum results. It's that simple.

FITS EVERY KNEE
The ergonomic design fits all knees without falling off. It sticks to the affected area and becomes unnoticeable almost immediately. Knee Relief Patches are a natural and safer alternative to pain relief than invasive and addictive methods like drugs and pills.


THE HEALING POWER OF 10 OF MOTHER NATURE'S MOST POTENT PAIN RELIEVERS
Many of Knee Relief Patches' ingredients have an extensive history of safety and effectiveness dating back to 2000 years ago* in Traditional Chinese Medicine.

Ingredients used: Wormwood, reticulate millettia, saline cistanche, davallia mariesii, chain fern, wild celery, safflower, spignet, corydalis, and borneol.

These remedies have been widely researched & proven to be effective against:

How Do They Work?
Place the patch on your affected area of the skin for maximum effect. Leave for up to 8 hours.
Our breakthrough formula penetrates deeply into the skin to increase blood flow and force out pain-causing inflammation. Blood provides nutrients to the damaged area to support your body's natural self-healing process.

Relieves pain & inflammation
Increase blood flow & circulation
Activates your body's self-healing mechanisms
Destroys inflammation-causing promoting cytokines

Proven To Work By Independent Scientific Study
Clinical evidence* supports the use of herbal remedies for knee joint pain and inflammation.

Using infrared cameras to measure the changes in body temperature caused by swelling, independent clinical research conducted lab tests to see how effective the patches are in decreasing pain and inflammation:

GET BACK TO LIVING PAIN-FREE TODAY!
For people with chronic pain, the joy from Patch Relief can be life-changing. They can run, hike, play with their grandchildren, exercise, and do the things they love again. Even everyday tasks, when done without pain, can bring freedom and happiness to those living with chronic issues.
Package Includes: 
1 x Knee Relief Patches kit (24 Pcs)
ORDER NOW AND ENJOY FREE SHIPPING
Genuine product, beware of counterfeit products!
Satisfied or Refunded
Receive mode:
✅It's very simple, after ordering the product by filling out the form, one of the company's employees will contact you to confirm the order with you, and we will send the product to you within 24-48 hours.

✅Delivery is 100% free.
✅payment is made upon receipt.
Share
View full details